29 Jul 2019

AFNOR 2019 General Assembly: Towards New Horizons!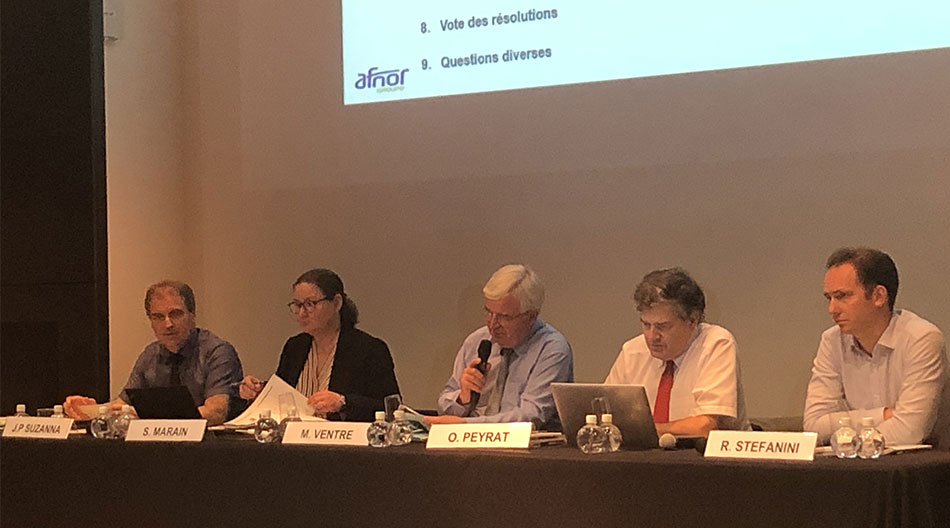 On Wednesday, 26 June 2019, the general assembly of the AFNOR association was held in Paris, chaired by Marc Ventre. For this occasion, AFNOR released its 2018 annual and CSR report. It also unveiled its new French standardization strategy.
With 1,600 members as of 31 December 2018 and 92 years of experience serving the business community, AFNOR held its 2019 general assembly on 26 June in Paris, chaired by Marc Ventre. The annual report, which was presented and approved, showed robust 2018 financial results for AFNOR Group, which includes the association and its commercial subsidiaries. On its French and international business, it recorded a net income of €2.6 million, which represents the difference between its income (€177.8 million, including revenue of €158.2 million and public subsidies of €8.3 million) and its expenses (€175.2 million). The year's financial results are included in the annual and CSR report published for this occasion. It can be downloaded here (PDF).
AFNOR's standardization activities contributed 14% of Group revenue in 2018. As a forum uniting all stakeholders in the French economy, standardization takes the pulse of major technological and societal trends. As such, it plays a leading role in identifying areas ideally suited to the development of new voluntary standards. In 2019, the AFNOR Standardization Coordination and Steering Committee (CCPN) compiled them into a strategic document, the French standardization strategy, which is applied to the 15 core standardization areas. It addresses three major challenges: the fight against climate change, controlled digitization and a more inclusive society.
The cross-functional themes are :
Sustainable and smart cities and territories
Trust and excellence for services
Ecological transition
Eat well, live well and age well
Digital technologies
Industry of the future
Autonomous and controlled mobility and logistics
The sectoral themes are :
Artificial Intelligence
Security
Energy storage
Nanotechnology
Technical textiles and new smart materials
Finally, AFNOR's members were able to assess AFNOR's performance, on behalf of France, in terms of taking responsibility on the European and international regulatory scene. The 2019 edition of the international standardization survey ranks it in second place in Europe (CEN-CENELEC) and fourth place internationally (ISO-IEC).
> Download the 2018 AFNOR annual and CSR report (PDF)
> Download the French standardization strategy…