Publié le

08/10/2021 Occupational health and safety: farewell OHSAS 18001, hello ISO 45001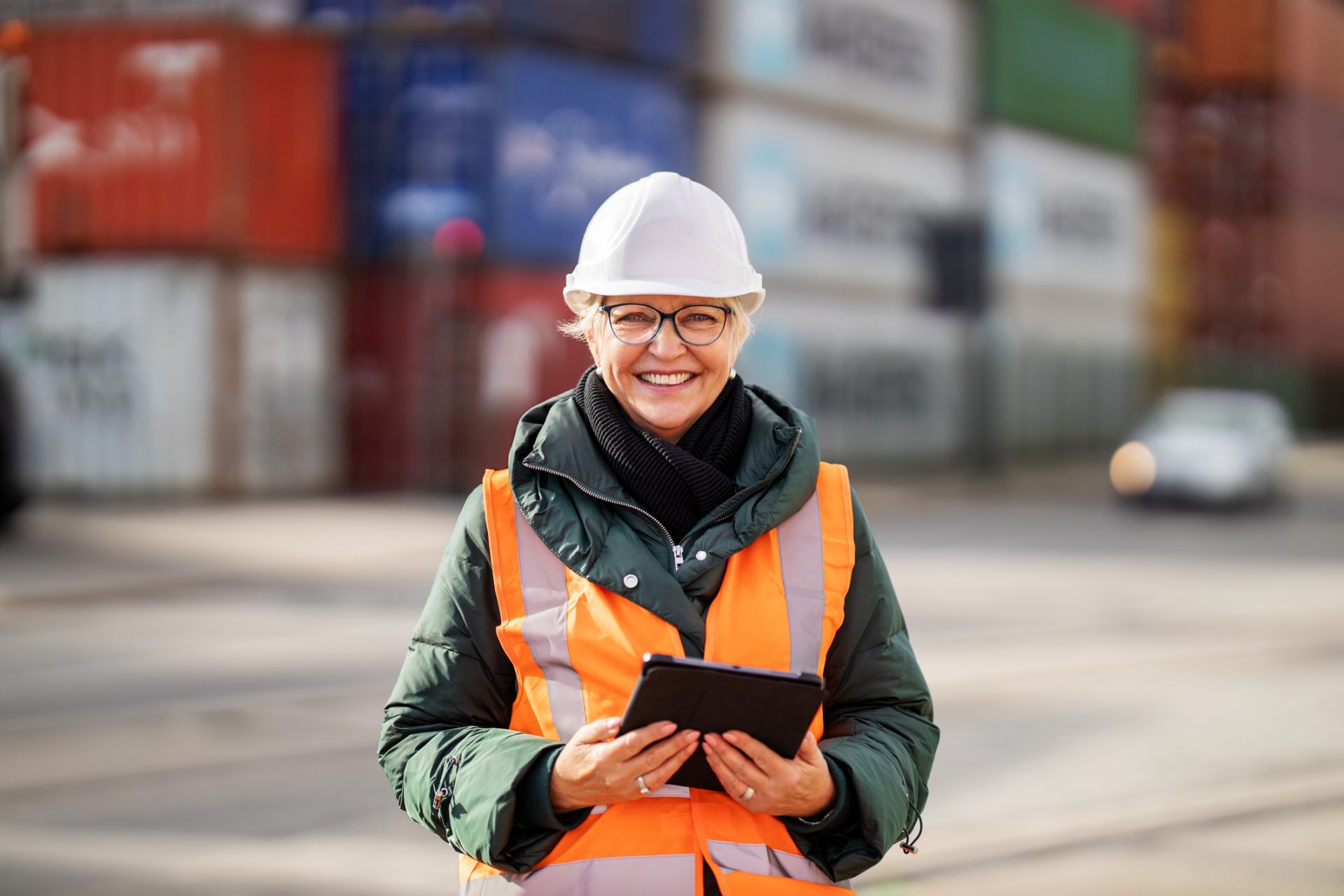 The British OHSAS 18001 standard bid farewell on 30 September 2021, leaving the door open for the new ISO 45001voluntary standard. This occupational health and safety management system focuses on giving employees a leading role. Read on for an overview of the migration process, how companies are adapting, the feedback received and the prospect of an early revision.
The occupational health and safety (OH&S) world will be witness to a groundbreaking event on 1 October 2021 as the British OHSAS 18001 standard permanently enters the history books and passes the baton over to the internationally recognized ISO 45001 voluntary standard. This event is somewhat of a latecomer on the standardization scene. Safety (S) is only now evolving into an ISO standard, which was released in 2018. As for the other two members of the QSE triangle, Quality (Q) and the Environment (E) were given the ISO treatment back in 1987 (ISO 9001) and 1996 (ISO 14001) respectively!
Project Manager Florence Saillet oversaw the standard's conception within the International Organization for Standardization on behalf of AFNOR.
She explains why the new ISO standard was so late in the making: "The reason why there hasn't been an ISO standard until now is that a number of countries, including France, were against it. In principle, the members of the French standardization commission were hostile to the prospect of standardizing OH&S issues and preferred placing their faith in hard law to govern OH&S practices." However, the OHSAS standard was starting to show its age: "Many companies wanted to take an integrated approach by combining their OH&S, ISO 9001 and ISO 14001 management systems. In 2013 following several attempts, the British held a consultation process. The project was subsequently launched at ISO and involved the participation of some 60 countries," advises Florence Saillet.
It is no secret that France did not vote in favour of the project during the ballot in 2018, but that did not prevent French representatives from getting involved in the work to defend their views and interests. The National Committee played a leading role in the process and featured a wealth of occupational health and safety experts, including institutions. Discussions gave rise to the idea of a preventive approach for proactively avoiding risks instead of reacting after an incident has already occurred, and talks hammered home the importance of consulting with employees and personnel representatives when developing OH&S policies. These two standout measures have been included in ISO 45001:2018.
Employees driving the standard
Although most of the requirements in ISO 45001 have been lifted from OHSAS 18001, this new international standard ensures that the management system is clearly focused on employees and recommends that organizations engage and consult with their workforce. France recently enshrined this very approach into law by requiring organizations to set up Social & Economic Committees as the sole body for representing employees. In the same vein, the new standard anticipates the expectations of employees (home working, etc.) and other interested parties, such as subcontractors.
Another important point is that just like other management systems, building an occupational health and safety management system in alignment with an ISO standard allows organizations to embrace voluntary best practices and fulfil their regulatory obligations at the same time. Complying with the law and regulations is a prerequisite for claiming conformance to the standard. Auditors have in-depth knowledge of the regulations specific to their country, and they will check for compliance when visiting a company that has asked to certify its OH&S management system according to ISO 45001. Read the example of the ISO 45001-certified Afric-Phar laboratory in Casablanca, Morocco.
Finally, an important point for QSE managers is that migrating from OHSAS 18001 to ISO 45001 simplifies the process of coordinating the three QSE management systems at the same time. "ISO 45001 is built on the same architecture as ISO 9001 and ISO 14001. In standardization circles, we talk about the HLS structure (high-level structure). That appeals to QSE managers, because it means they can work on a common framework," stresses Béatrice Poirier, AFAQ ISO 45001 Product Manager at AFNOR Certification. Just like its two cousins, this standard helps to identify risks and opportunities, and QSE professionals know these concepts only too well. "Listening to interested parties is key to pinpointing opportunities and defining real action plans. The whole process helps improve occupational health and safety performance," explains Béatrice Poirier.
Easy migration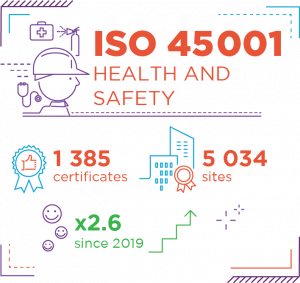 All companies that have already implemented integrated management systems have adopted ISO 45001. If necessary, they have even undergone training to ensure successful migration. "During 2017-2021, over 1,000 people enrolled for training, and almost the same number of people received support and guidance in either transiting from OHSAS 18001 to ISO 45001 or getting to grips with ISO 45001. Auditors were the first in line to update their skills, followed by QSE and OH&S managers," advises Séverine Lesage, who supervises OH&S issues at AFNOR Competencies. Companies have therefore had three years to get up to speed, plus a six-month grace period due to the Covid-19 pandemic. "To date, 85% of the French companies that we'd certified to OHSAS 18001, mainly in construction and industry, have switched over to ISO 45001. We had roughly the same percentage just a few weeks before the deadline for migrating to the 2015 versions of the ISO 9001 and 14001 standards," says Béatrice Poirier.
Marie-Hélène Lefebvre, who has been an auditor for AFNOR Certification for 20 years and is based in the Hauts-de-France region, has seen that "the first organizations to
achieve certification were just as enthusiastic about ISO 45001 as they were about OHSAS 18001. This mainly applies to companies with the highest accident rates and whose manufacturing procedures call for the utmost safety."  A case in point is electronic components manufacturer Axon Cable.  Located in France's Marne region, this company became the very first French organization to achieve certification in 2018. ISO's last survey showed that France had 1,385 active ISO 45001 certificates as of 31 December 2020, including those issued by AFNOR Group, out of a total of 5,034 sites. A year earlier, these figures were 524 certificates for 1,523 sites, i.e. three times less! Around the world, 190,429 certificates were active by the end of 2020, covering more than 250,000 sites, which is almost five times more than in 2019.
Conversely, companies that had never been OHSAS 18001-certified but had already achieved ISO 9001 and 14001 certification have taken advantage of ISO 45001 to strengthen their integrated management system further… with strengths and weaknesses. "Giving greater emphasis to the need to engage and consult with employees is a strength, because employee involvement is essential for rolling out a solid management system. Some decision-makers occasionally view this approach as a hurdle when starting out, but they quickly realize its value when they see just how much this requirement dovetails with existing regulations, including training plans, risk prevention plans, risk identification, accident investigations, and so on," explains Marie-Hélène Lefebvre. One thing is crystal clear: when an organization already has a mature OHSAS 18001 management system that produces results, migrating to the new standard is easy. Our 2019 study shows that the further away from the publication date of the ISO 45001 standard, the fewer nonconformities the auditor spots.
ISO 45001: an early revision already in the pipeline?
Since 2018, major changes have swept through the working world. The Covid-19 pandemic has turned the situation upside-down. Out in the field, auditors have raised a number of points that need clarification after carrying out audits at organizations applying for certification. The technical committee that published the standard on an international level (ISO/TC 283) is currently looking to start the revision process now instead of waiting until the systematic review in 2023. So is an update on the cards? "The answer will be known by the end of the year," advises Florence Saillet. "If a revision is necessary, work will start in 2022. New issues, such as well-being in the workplace, reintegration and returning to work, should be added. France has already expressed its views on these topics and will continue to do so." »
Since the standard was published, the ISO/TC 283 committee has been working on a number of related topics, which has resulted in derivative standards. For example, publications include a practical guide for small organizations on implementing ISO 45001, a specification for safe working during the Covid-19 pandemic, and the ISO 45003 standard on psychosocial risks in June 2021. But that's not all! "In 2022, ISO 45002 on general guidelines for the implementation of ISO 45001 will be coming," explains Florence Saillet, "until such time as the future ISO 45004 guidance standard on OH&S performance evaluation and ISO 45006 on preventing and managing infectious diseases have been released."
Tools for a successful migration
©Getty Images/Luis Alvarez