Green industry: six months to build the "Triple E" standard
Publié le

28/08/2023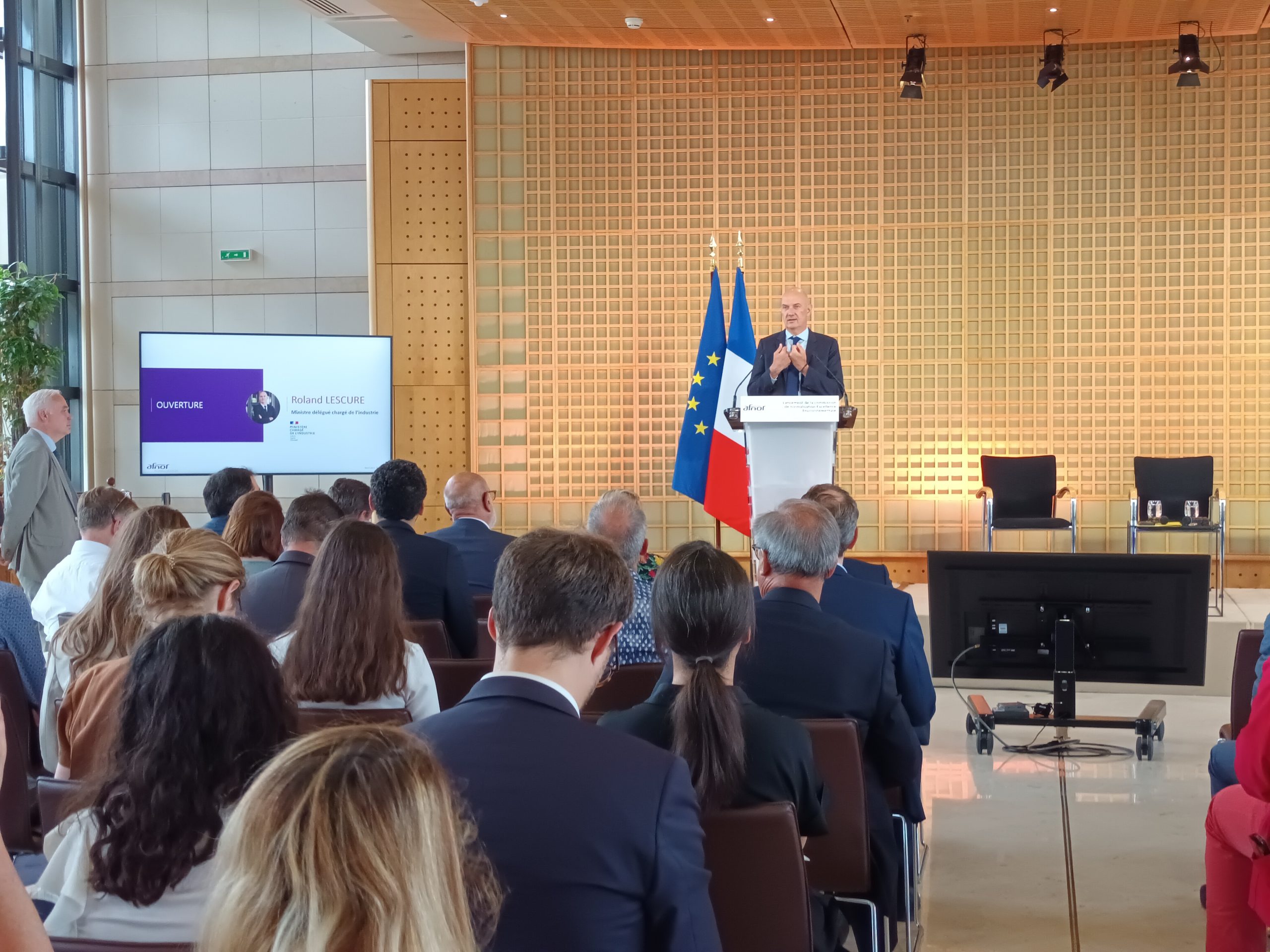 Underbrush, magma, a forest… the words from French Minister for Industry Roland Lescure, who came to launch the work session on the "Triple E" standard on Thursday, 20 July 2023 at Bercy, gave an idea of the level of confusion enshrouding the French economic landscape between standards, labels, indicators, certifications, and so on. Companies may have the impression that they are accumulating "green" accolades and investing a lot for what is ultimately an unclear return on investment.
Therefore, to clear the way and allow French manufacturers to embrace the green transition without disregarding the universally known schemes for achieving greater environmental performance, such as the famous ISO 14001, the French government has entrusted AFNOR with the task of developing the Triple E standard. This "umbrella" will provide both "clarity and excellence", according to Roland Lescure. This request has been made as part of the green industry bill spearheaded by Minister of the Economy and Finance Bruno Le Maire, with a deliverable expected in early 2024. "The environmental transition is no longer a constraint, but an opportunity for companies to retain their talent, their investors and their competitive advantage," added Roland Lescure. Triple E will give us a sense of direction, and this umbrella, which will [initially] be blue-white-red, will soon become European."
Triple E: SMEs and mid-caps welcome at the standardization table
The Triple E standard will specify the criteria enabling manufacturers to claim European environmental excellence and apply for the associated sign of endorsement (label or certification), which will open the doors to earmarked financing, including popular savings, as provided for in the bill.
This is where voluntary standardization comes in. What could be better than AFNOR's standards engineering and its 21,000 professionals involved in standardization commissions for producing this standard? We are clearly talking about voluntary standards, i.e. the documents listing best practices that should be distinguished from regulations, which are mandatory.
The work involved will need to be efficient and focused, since the aim is to release the Triple E standard within six months. To reach this goal, there are no secrets. Basically, a unifying approach is required, such as bringing together manufacturers and federations of all sizes, sectors and maturity levels.
Marie Bonnet-Jacqui, an inspector within the French General Inspectorate for the Environment and Sustainable Development (IGEDD), has agreed to chair the new AFNOR commission. Aware that she is tackling a project of titanic proportions, she reminded that nothing is harder than keeping things simple. "Particularly when you start with what is already an extremely dense state of affairs. But Triple E will be the label for manufacturers. It will focus on processes, rather than products. It will serve as a guarantee for public and private buyers by giving reassurances of their suppliers' environmental excellence. I would like to tell SMEs and microbusinesses that they should not be intimidated by large firms and major groups. Come along and I'll make sure the balance is maintained," she said at the meeting on 20 July. You can contact us here (requires a Norminfo account, in French).
Triple E: an equivalence grid with existing standards
The content of the standard will typically address carbon. On this particular issue, Bruno Millienne, MP for the Yvelines region, who supported the project during the consultation process preceding the various parliamentary discussions, pointed out that France has the most carbon-free energy mix in Europe, along with Sweden and Finland. "We're in the leading group, but we're not making the most of this position. Triple E will give us the opportunity to collect the best of the standards, explore some 30 existing texts and combine them under a standard that should ultimately appeal to the other countries of the European Union."  Above all, the standard should become a key indicator of a company's environmental efforts that can be used by backers looking to green their investments and by public purchasers encouraged to buy green, local, circular and net-zero products and services.
Franck Lebeugle, Director of Standardization Activities at AFNOR, reminded participants that the project had to be designed as an "umbrella standard" covering the issues addressed by existing internationally recognized voluntary standards, such as ISO 14001 on environmental management systems, ISO 50001 on energy management systems, and others concerning the lifecycle, greenhouse gas emissions, the circular economy and biodiversity. The additional "French-made" dimension should make the Triple E standard a guarantee of regional attractiveness for local authorities playing host to companies that are committed to this approach for excellence. "This standard will work by eco-equivalence with existing environmental systems. Companies that have already achieved one of the corresponding certifications may be recognized as "Triple E" by verifying such equivalence," explains Lina Ismail, who is coordinating the project for AFNOR.
The next meetings for this new commission are scheduled for 29 August, 12 September, 28 September and 10 October 2023. Do you work in the manufacturing or extractive industries? As a banking sector professional, are you involved in financing companies committed to the ecological transition? Are you a strategy director or sustainable development manager? You are responsible for defining the standard!
CONTACT US